YOUR BONES ARE SPEAKING. I CAN HELP YOU HEAR THEM.
Skelementary School is an intimate, bespoke, course + mentorship program, to teach you the language of your bones.
This course will invite you to come into conversation with your body, apply bone wisdom, analyze and ask questions, evaluate your patterns, clear, and heal the energies in your bones. You will be asked to go deep from the very start. To explore YOUR body - it's programming, stories, and patterns. Week by week you will add a layer of understanding, analysis, and intuition.

No two bodies are the same. No two energy fields are the same. And no two skeletons are the same. There is a foundation and structure that we are all able to understand and access - which bones perform what function, how energies flow and parse out - this is the same for all of us. But just like people who speak the same language, our body has it's own dialect.
I say that Skelementary School is a bespoke course, because it will never be the same twice. The content is tailored to you when you receive and accept the invitation to join me for the next ten weeks. Your dialect is unique, and it's my goal to help you understand exactly how YOUR bones speak to you.
We are beginning on April 15 and will be together until June 21.
You'll receive:
+ Weekly PDFs and lessons delivered through video

+ Meditations to help you feel and access Energy Archaeology™ in your own body

+ Group healings and activations tailored specifically to those who accept this invitation to Skelementary School

+ A Facebook community with live Q+As with Ashley

+ Access to Ashley through the Facebook group, email, Voxer and/or What'sApp

+ Partnership with another course member who has been energetically paired with you.
When the mentorship concludes, you will be equipped to continue this work in your personal life.
Welcome to a new paradigm for understanding the way your physical and energetic anatomy communicate

YOUR BONES ARE THE KEY
Our bones hold and translate the story of our lifetimes.
Each bone has a specific function and energy pathway, which you will learn through this course. They filter, store, analyze, and transmute frequencies according to what is in harmony with our current vibrational resonance.
This clever structure is working with frequencies from this lifetime, but also data and energies brought in from our ancestral lineages, past lives, and other dimensional realities.
Your story is in your bones
It's in how your legs support you or move you forward
How your pelvis integrates your ancestral gifts
How your spine coordinates between your chakras and your nervous system
How your arms give and receive; and
How your skull weaves energy into inspiration
We have forgotten how to read our bodies. How to interpret the signals that we are given day after day, minute by minute. Skelementary School is your invitation to remember.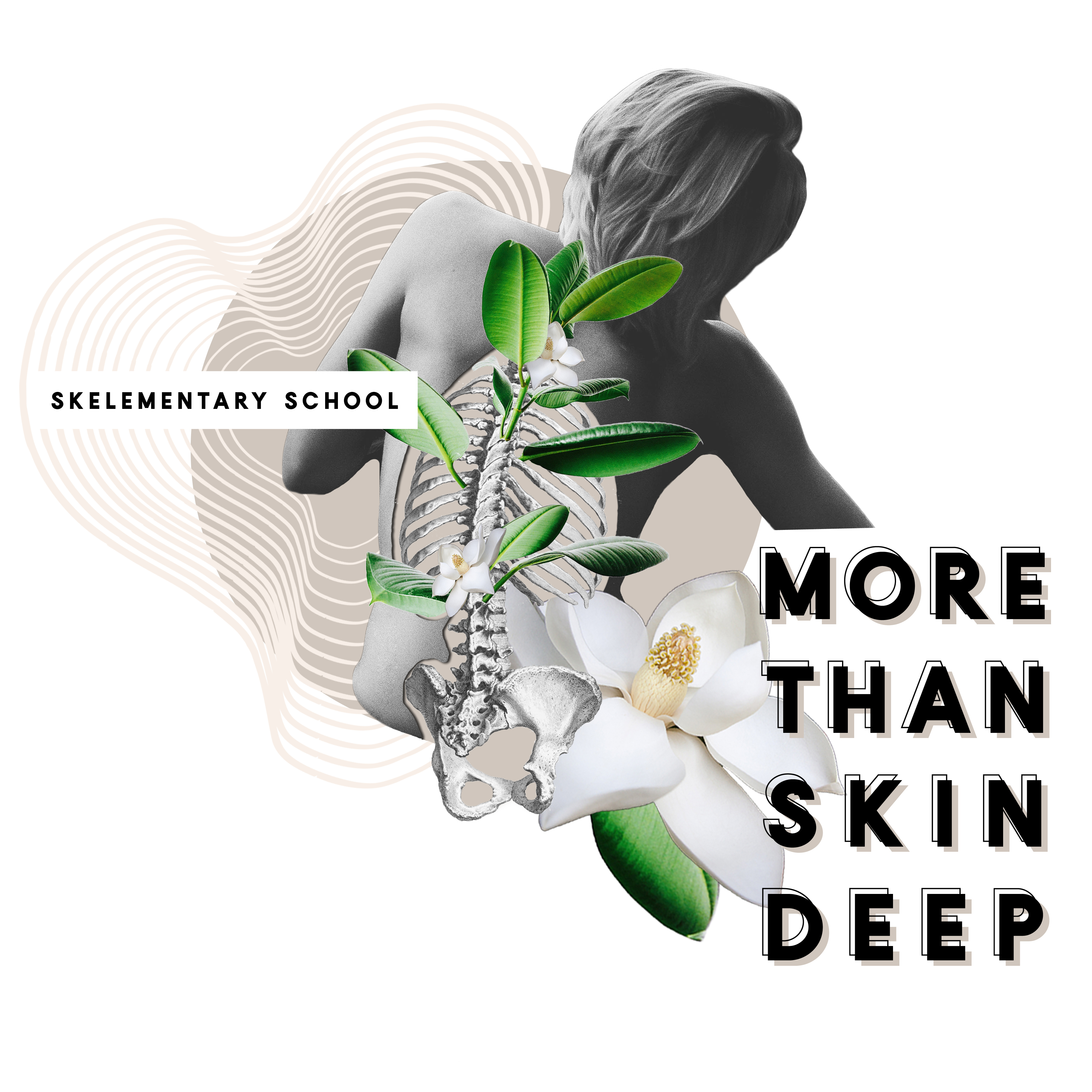 WHAT IS ENERGY ARCHAEOLOGY™?
Energy Archaeology™ is an energy work methodology that I have channeled and will be teaching you in Skelementary School. This type of energy work presents a new way to understand how energy flows and functions in the human body - in our skeleton.
The course content has been structured so that each week builds on the next, and we explore our own understanding of our body, and how Energy Archaeology™ can take us deeper in understanding, healing, releasing, and integrating what has been held in our bones.

I have spent thousands of hours exploring this energetic scaffolding, on my own and in client sessions. The wisdom presented in Skelementary School has come through that work. It's as natural as my own beating heart, and I know it at the deepest level of my soul.
I can see the resonance and know that you, too, know this information.
It has been buried in our bones and is waking up. As if stretching after a long slumber, you will feel it as you move through this course.
A nudge here
A twinge there
The whisper of truth
You are remembering
You are awakening the story contained within your bones.
COURSE CONTENT AND SCHEDULE
Skelementary School begins on April 15 and concludes on June 21
All of the Welcome materials are available as soon as you register, and each Module will be released on Monday morning of the new week.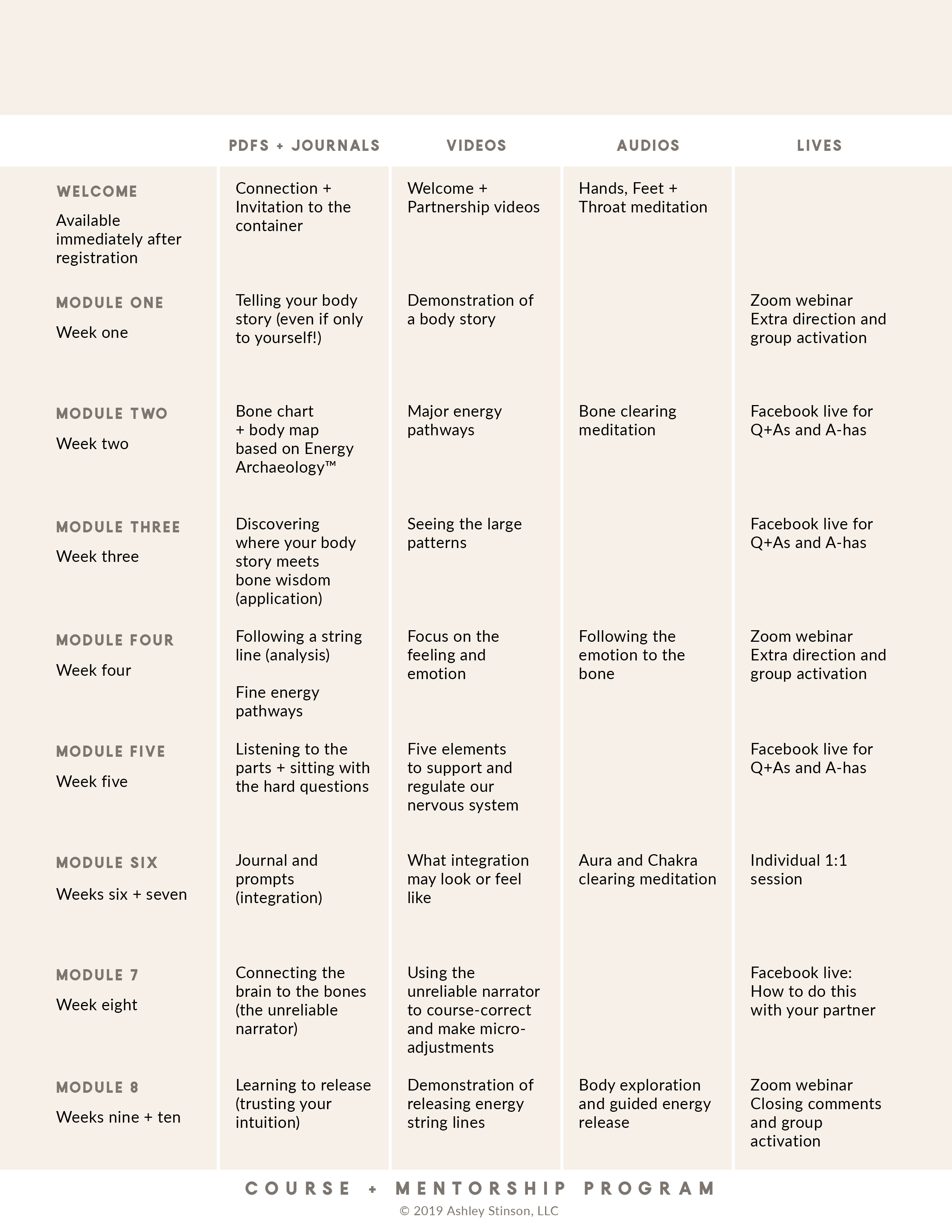 This course is not open for enrollment.
Frequently Asked Questions
When does Skelementary School begin and end?
The course content + mentorship begins April 15 and will wrap up June 21.
What is included in the course tuition?
+ Weekly PDFs and lessons delivered through video + Meditations to help you feel and access Energy Archaeology™ in your own body + Group healings and activations tailored specifically to those who accept this invitation to Skelementary School + A Facebook community with live Q+As with Ashley + Access to Ashley through the Facebook group, email, Voxer and/or What'sApp + Partnership with another course member who has been energetically paired with you.
How long do I have access to Skelementary School?
You have access to this course for as long as it is still being provided by Ashley Stinson. Because it is a customized program + mentorship experience, each session will vary according to the needs of the clients enrolled. Materials will continue to be added to and updated with each session, but as an alumnus, you will be invited to join each session.
Are there materials besides the course tuition that I need to provide?
All PDFs, videos, audios, and live group calls are provided free or use software that is free and openly accessible. I have decided to include MetaAnatomy: Anatomy of a Yogi as a "textbook" of sorts that we will use as a reference or additional reading material. It is an introductory anatomy book written by a Yoga teacher and is extremely accessible and easy to understand. The chapters are well-written, humorous, and go well with how this course is designed. There may be additional books that I recommend during the course of Skelementary School, but they aren't required. I have decided to use an external anatomy book as a resource because I am not "formally trained" in anatomy and don't pretend to be. My genius lies in seeing and understanding how the energy flows through our bones, not in naming, classifying, and teaching the bones as an anatomy expert. There are so many well-written anatomy books out there, but this one just seemed to fit with the program and my goals for you. We won't need it for the first week or two, so there is plenty of time to purchase it once we start Skelementary School.
How much time can I anticipate spending each week?
This is really up to you, but I would recommend setting aside half an hour per day. Some weeks may be more (Module 4, for example) and some may be less (integration weeks like Module 2, Module 6, etc.) The goal of Skelementary School is to create a practice and bring this work into your every day life. At first it will take carving out dedicated time to sit down and explore videos, write in your journal, do some reading, and listen to the meditations. As this becomes more habitual, you will find that you're automatically doing some of the exercises in the back of your mind.
Do I need experience with Reiki or energy work to join?
No! I know that quite a few of the people who join (or have joined) this program are energy workers and highly intuitive individuals. Others may have worked with me over the past year or so in 1:1 or group sessions. This isn't required or necessary. Because Energy Archaeology™ is a new way to understand your body and energy system, you don't have to have a background in other energy work methodologies.
Is this a practitioner certification?
No. A practitioner certification in Energy Archaeology™ would take much longer than 10 weeks. I anticipate that one day I will offer a certification, but this is not that course. Skelementary School is the foundation. It is learning and applying Energy Archaeology™ for yourSelf and your own life. It is introducing a practice and teaching you how to live and understand in a new way. As Gandhi said "an ounce of practice is worth tons of preaching." First, we practice. That being said, because of the way Energy Archaeology™ settles into and activates your energy field, it will become something that informs your life, and possibly your work. I ask that you refrain from teaching any of the content that you learn in this course, or referring to it as a part of your own work. If you have questions about this, please email me.
What if I'm unhappy with the program?
Skelementary School is a bespoke program + mentorship opportunity. The modules and videos are being created custom for the individuals in the program; because of this, I encourage you to reach out with questions, comments, or complaints if you are unhappy. If within 30 days you don't feel satisfied or heard, I will happily refund 2/3 of the course tuition. I am unable to give full refunds on this program. Thank you for understanding.
Did you know that your energy shifts as soon as you make a decision? As soon as you say yes to this program, your energy will begin to make room.
You are saying yes to ten weeks of dedicated exploration in your body, and it will respond in kind. Every cell has a design and energetic function - as they come together in specific forms and shapes of bones and organs, they function as a cohesive whole with an energetic resonance all their own. If we listen when they speak, we can learn volumes about ourselves.
I would be honored to guide you into that conversation.
See you soon!
Your Instructor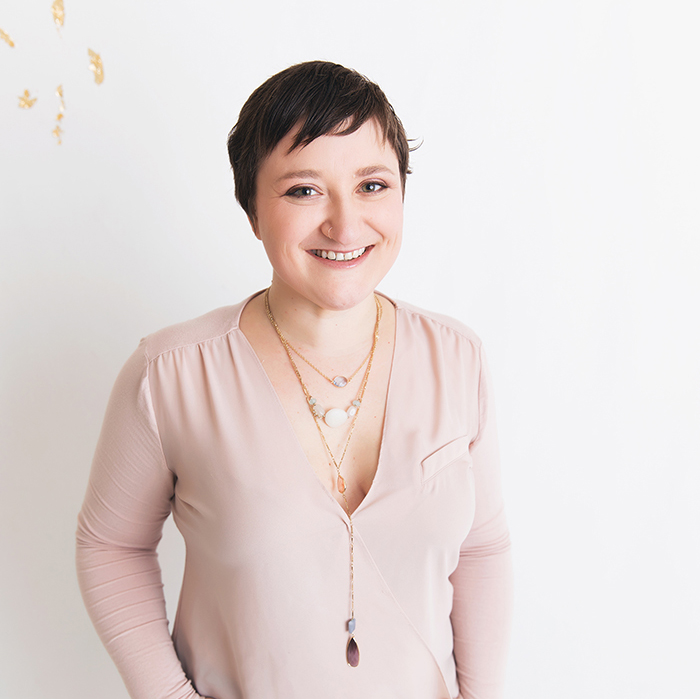 Ashley is an intuitive energy worker and creatress of the Energy Archaeology™ methodology. Her work describes the connection between our energetic anatomy and our physical anatomy, primarily the bones and organs, but it is always expanding as she learns more in meditation and 1:1 sessions with clients. She lives in Virginia in the US with her husband and twin boys.
You can find her online at:
AshleyStinson.com and
@Energy_Archaeology